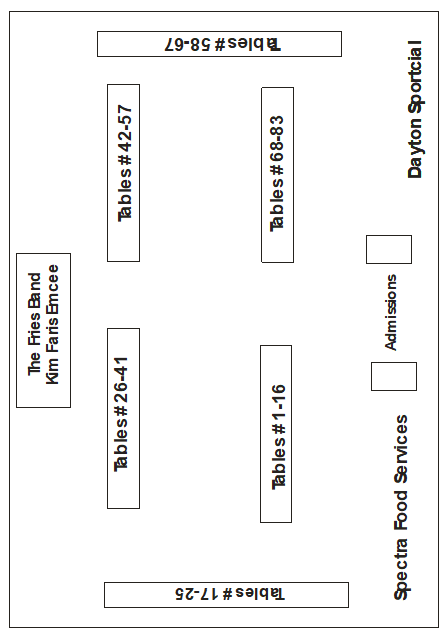 Table # 1 & 2- Dayton Area Breweries
Crooked Handle Galaxy Haze IPA (draught) &
Blueberry Boro Blonde (cask)
Hairless Hare What's Hoppening Hot Stuff NEIPA (draught)
Table # 3- Dayton Area Breweries
Rolling Mill Anti- Federalist Pale Ale &
Three's Chaos IPA (both Gluten Free-draught)
Table # 4 & 5- Dayton Area Breweries
Dayton Beer Company Chardonnay Barrel Aged Saison with Pink Sea Salt & Pink Guava, Mitternacht in Munich Lager, &
Orange Pomegranate Passionfruit Wheat (all draught),
Java Man Cometh Stout, & Gem City Light Lager
Table # 6- Dayton Area Breweries
Fifth Street Brewpub Apollo Landing Saison &
Damn Damn Pale Ale (both draught)
Table # 7- Dayton Area Breweries
Lock 27 Stumbling Nag DIPA & Locktoberfest Lager (both draught), Mouth Breather IPA, & Lock Tender Golden Ale
Table # 8
Esther Price Fine Chocolates
Table # 9- Dayton Area Breweries
Warped Wing Barrel Aged 2018 Esther's Li'l Secret Chocolate
Cherry Cordial & 10 Ton Oatmeal Stout (both draught),
Dayton Strong Pale Ale, & Lagerstadt
Table # 10- Dayton Area Breweries
Devil Wind When in Bruges Belgian Golden Ale (draught)
Lucky Star The Belgian Golden Strong Ale (draught)
Table # 11- Dayton Area Breweries
Heavier Than Air Balloon Factory ESB &
Falcon Project NEIPA (both draught)
Table # 12- Dayton Area Breweries
Yellow Springs Boat Show IPA & Springer
Table # 13- Dayton Area Breweries
FigLeaf Strong Ale & Barrel Aged Imperial Stout (both draught), Ponderous Porter, & Blood Orange Blonde
Table # 14- Dayton Area Breweries
Eudora Groove Juice Session IPA &
Greater Than One Double IPA (both draught)
Table # 15- Dayton Area Breweries
Carillon Berliner Weisse & Roggenbier (both draught)
Table # 16- Dayton Area Breweries
Star City Deed's Saison Collaboration with Carillon &
Pozar 125 Grodziske (both draught)
Spectra Foods– Bratwurst, Hot Dogs,
Chips, Water, & Soda Concession
Table # 17 & 18 Canal Street Arcade & Deli Concession– Cold Meat & Vegetable Sandwiches, Packaged Potato Chips, & Snacks
Table # 20 & 21 Mudlick Tap House Concession- Soft Pretzels with Mustard & Beer Cheese, Chicken Jambalaya, & Andouille Sausage Sandwich with Havarti & Boat Show IPA
Table # 23 & 24 Thyme After Thyme Gourmet Concession–
Beer Infused Cupcakes, Chocolates, Truffles, & Beer Bread
Table # 25- Malty
Andechs Doppelbock
Dogfish Head Bitches Brew Imperial Stout
Orkney Dark Island & Skullsplitter
Schneider Aventinus Eisbock
Table # 26- Malty
Christian Moerlein 5th Oktoberfest
Warsteiner Oktoberfest
Braxton Oktober Fuel
Sun King Wee Mac Scottish Ale
Table # 27- Malty
Founders Breakfast Stout
Southern Tier Chocolate Milkshake
Cigar City Maduro Brown Ale
Oskar Blues Hotbox Porter
Table # 28- Malty
Wiedemann's Royal Amber
Troëgs Troëgenator Doppelbock
Abita Bourbon Street Baltic Porter
Clown Shoes Coconut Sombrero Mexican Style Chocolate Stout &
The Exercising of Baxter American Imperial Stout
Epic Big Bad Baptist Imperial Stout
H-Wire Palo Santo 10w-40 American Imperial Stout
Table # 29- Malty
New Holland Dragon's Milk White Stout
Masthead Single Origin Coffee Stout
Komes Baltic Porter
Three Floyds Wig Splitter Oatmeal Stout
Great Divide Yeti Chocolate Cherry
North Coast Old Rasputin Imperial Stout
Shorts Bellaire Brown Ale
Table # 30- Malty
Deschutes Obsidian Stout
Ballast Point Kunindra India Style Export Stout (draught)
Mother Stewart's Oktoberfest German Märzen
Oddside Hazels Nuts American Imperial Stout
Table # 31- Malty
Rhinegeist Franz Oktoberfest
Spoetzl Shiner Oktoberfest German Märzen
Taft's Oktubberfest German Märzen
Boston Beer Sam Adams Oktoberfest
Table # 32- Sour
Lindemans Belgian Cuvée René Gueuze Lambic
Funkwerks Raspberry Provincial Sour
Two Roads Sauvignon Blanc Gose
Boston Beer Sam Adams Kosmic Sour American Wild Ale
50 West Ocean City Gose
Jackie O's Perpetum Cucumber Ginger Berliner Weisse
Little Fish Momentary Freakout Wild with Passionfruit & Guava
Sixpoint Jammer Gose
Urban Artifact Photo Booth Gose
Table # 33- Sour
Elysian Raspy Whisper Leipzig Gose (draught) & Salt & Seed Gose
Goose Island Lolita American Wild Ale
Oddside Zure Kers Berliner Weisse &
Pretentious American Wild Ale (both draught)
Table # 34- Sour
Wiedemann's Raspberry Wheat Tart (draught)
Platform Blue Martian Blueberry Sour & Orange Blossom Gose
Coronado Salt Spray Margarita Gose
Erie Bikini Season Gose
New Holland Blue Sunday Wild Ale
 Table # 35- Sour
Duchess De Bourgogne Flanders Red Ale
Paradox Future Knowledge Farmhouse Ale
Nowhere in Particular Batch 035 Sour
Bruery Terreux Peach Sour Blonde
Three Floyds Deesko Berliner Weisse
MadTree Shade Leipziger Gose
Heavy Seas Red Flag Flanders Red
Table # 36- Quaffable
Franziskaner Hefeweizen
Braxton Storm Cream Ale
50 West Doom Pedal Belgian Style Wit
New Belgium Belgian White
SweetWater Costa Kick Plastic Pilsner
Three Floyds Gumball Head American Wheat
Rothaus Pils Tannenzapfle
Table # 37- Quaffable
Wiedemann's Bohemian Special Pilsner
Melvin Heyzeus Mexican Style Lager
Weyerbacher 24th Anniversary Imperial Mexican Lager
Around The Bend Vera Pistachio Cream Ale
Erie Soleil Shandy Shorts Soft Parade Shandy
Weihenstephaner Hefe Weissbier
Urban Artifact Missing Linck Golden Ale
Table # 38- Quaffable
Alaskan Kölsch Ale & White Ale
Breckenridge Belgian White Ale
Funkwerks White Wheat Ale
Deschutes Da Shootz American Lager
Two Roads Road Jam American Pale Wheat Ale
Table # 39- Quaffable
Mother Stewart's Witbier & Weekend Warrior Wheat
19 Crimes Pilsner & Lager
Rhinegeist Cheetah American Lager
Boston Beer Sam Adams Marathon 26.2 Golden Hazy Ale
Table # 40- Cask
Maumee Bay Cucumber Gose with Dill (cask)
North High Cover Crop Golden Ale with Mint & Lemon (cask)
Table #41- Cask
Branch & Bone Dark Fortress Coffee Milk Stout with Tahitian Vanilla & Stood on Gold Gose with Plum, Tart Cherry, & Vanilla (both cask)
Table # 42- Hoppy
Moeller Brew Barn First on The Moon Pale Ale
Brew Kettle White Rajah IPA
Lagunitas Lil Sumpin' Sumpin' & Phase Change IPA
Table # 43- Hoppy
Great Lakes IPA
50 West Punch You In The EYEPA (draught)
Founders Double Trouble Imperial IPA (draught)
Table # 44- Hoppy
Columbus Brewing Double Bohdi IPA &
Insane Wanderer IPA Vol IV
New Belgium Voodoo Ranger Juicifer IPA
Southern Tier 2X IPA
Table # 45- Hoppy
SweetWater 420 Strain Mango Kush American Wheat
Cigar City Jai Alai IPA
Oskar Blues Can-O-Bliss Hazy IPA
Sun King Freedom Rock Session IPA
Table # 46- Hoppy
Bell's Two Hearted Ale & Prairie Grass Dividing IPA
Coronado Weekend Vibes IPA
Masthead IPA
Dark Horse Double Crooked Tree IPA
Table # 47- Hoppy
Alesmith Boom Crash Hopera IPA & Juice Stand IPA
Ellison Dawn Street IPA
Wyndridge Homestead IPA
Clown Shoes Pineapple Space Cake IPA
Table # 48- Hoppy
Knee Deep Breaking Bud IPA & Oopsie Dhazy IPA
Maine Woods & Waters IPA
North High Fly Hazy IPA
Maumee Bay Fake Juice NEIPA
Table # 49- Hoppy
Flying Dog Thunderpeel IPA
Troëgs Hop Knife Harvest IPA
Bell's Smitten Pale Ale
Ellison Crescent Fresh IPA
H-Wire Hop Circus Lemon Drop IPA
Table # 50- Hoppy
Maine Lunch IPA (draught)
Melvin Hop Shocker Imperial IPA (draught) &
Cloudy Rotational IPA
Toxic Brut Suit Riot IPA (draught)
Table # 51- Hoppy
21st Amendment Blood Orange IPA
Elysian Space Dust IPA & Salute The Sun Pale Ale
19 Crimes IPA
Table # 52- Hoppy
Mother Stewart's Disco Dancer NEIPA
Devil's Backbone 8 Point IPA
Victory No Brainer IPA
Taft's Gavel Banger American IPA & Juicy Justice Imperial IPA
Table # 53- Hoppy
Old Nation M-43 & Boss Tweed IPA
Goose Island Next Coast IPA & Paper Umbrella IPA
Spoetzl Shiner Coconut Pineapple IPA
Table # 54- Hoppy
Two Roads Road 2 Ruin IPA
Breckenridge Hop Peak IPA
Deschutes Fresh Haze IPA & Lil's Squeezy Session IPA
Platform Bucket of Gloves NEIPA &
Paranormal Hoptivity West Coast IPA
Table # 55- Hoppy
Against The Grain Citra Ass Down
Fat Heads Head Hunter IPA & Strange Magic IPA
Revolution Anti Hero IPA
Stone Arrogant Bastard & Fear Movie Lions Double IPA
Table # 56- Hoppy
Brew Dog Elvis Juice Grapefruit IPA
Dogfish Head American Beauty Pale Ale
Three Floyds Alpha King Pale Ale
Sixpoint Hootie IPA
Heavy Seas Double Cannon Double IPA & TropiCannon IPA
Table # 57- Hoppy
Jackie O's Mystic Mama IPA & Mandala Double IPA
MadTree El Dorado High Imperial IPA & Psychopathy IPA
Lord Hobo Hazy Boomsauce NEIPA
Table # 58- Wine
Terra d'Oro Moscato
Relax Riesling
Three Pears Pinot Grigio
Butternut Chardonnay
Toad Hollow Rosé
Michael David 7 Deadly Zins
Bieler Born to Run Cabernet Sauvignon
Table # 59- Cider
Reverend Nat's Viva La Pineapple & Sacrilege Sour Cherry
Virtue Mitten Cherry Cider
Rhinegeist Swizzle Hard Cider
Blake's Grizzly Pear & Wildflower Cider, Traffic Jam Blackberry, Strawberry, & Raspberry Cider, & Rosé Strawberry & Rose Hip Cider
Table # 60
Hondros College of Nursing
Table # 61
Tim Gaffney- Dayton Beer: A History of Brewing in The Miami Valley
Table # 62
BCCA- Beer Collectible Club of America
Table # 63
Beer Podcast
Table # 64
Pedal Wagon
Table # 65
Square Peg Solutions
Table # 66
Renewal by Anderson
Table # 67
RADS Bloody Mary Bar with
Centerville Pizza & BBQ & Buckeye Vodka
Table # 68- Barrel Aged
Founders Mas Agave Barrel Aged Imperial Gose
Ballast Point Barrel Aged Victory at Sea Imperial Porter &
White Wine Barrel Aged Sour Wench American Wild Ale
Oddside Nightman Leaveth Rye Whiskey Barrel Aged Imperial Milk Stout with Vanilla Bean & Sweet Potato Soufflé Rye Whiskey Barrel Aged with Cinnamon & Nutmeg
Boulevard Bourbon Barrel Aged Quad
Table # 69- Barrel Aged
Sierra Nevada Tequila Barrel Aged Gose,
Barrel Aged Bigfoot American Barleywine &
Rum Barrel Aged Quad Trip In The Woods (both draught)
Thirsty Dog Barrel Aged Wulver Scotch Ale &
Rum Barrel Aged Imperial Porter (draught)
Goose Island Madame Rose Wine Barrel Aged on Cherries (draught)
Table # 70- Barrel Aged
Grainworks Willett Bourbon Barrel Aged Motor Oil
Russian Imperial Stout & Bagpipes of Bardstown Bourbon Barrel Aged Scotch Ale (both draught)
Jackie O's Brick Kiln Barrel Aged Barleywine &
Barrel Aged Hocking Hills Hefeweizen
Hoppin' Frog Barrel Aged BORIS The Crusher
Table # 71- Fruit, Vegetable, & Herb
Lindemans Belgian Cassis Lambic
Moeller Brew Barn Blackberry Prairie Wheat
21st Amendment Sparkale Sparkling Rosé Ale
Breckenridge Strawberry Sky German Kölsch
Table # 72- Fruit, Vegetable, & Herb
Deschutes Botanic Ale with Herbs & Spices
Rhinegeist Lil Bubs Fruited Ale & Wowie Fruited Ale
Golden Road Mango Cart Pineapple Ale
Devil's Backbone Pear Lager
Table # 73- Fruit, Vegetable, & Herb
Southern Tier Imperial Pumking
Around The Bend Kiwi Pilsner
Masthead Falling Fruit
Ellicottville Blood Orange Hefe & Blueberry Wheat
Table # 74- Fruit, Vegetable, & Herb
North High Berry Shandy (draught)
Toxic Raspberry Uno Mas Kölsch (draught)
Brew Dog Clockwork Tangerine
Fat Heads Bumbleberry
Schöffenhofer Grapefruit Hefeweizen
Table # 75- Belgian
Chimay Trappist Red, White, & Blue
Rochefort Trappist 6°, 8°, & 10°
Table # 76- Belgian
Funkwerks Tropic King Belgian Saison
Victory Twisted Monkey Belgian Blonde Ale
Goose Island Sofie Belgian Saison
Zundert Trappist Tripel
Orval Trappist Ale
Table # 77- Belgian
New Belgium Honey Orange Tripel
St. Bernardus Abt 12 Quadruppel
Gulden Draak Strong Dark Ale
Kasteel Barista Chocolate Quad
Abita Honey Suckle Saison
Flying Dog Barrel Aged St. Eadman Tripel (draught)
A'Chouffe Chouffe Houblon
St. Feuillien Grand Cru
Table # 78- Belgian
Mortgaat Duvel Golden Strong Ale
LaTrappe Trappist Witte
Unibroue La Fin Du Monde & Trois Pistoles
North Coast Pranqster
Ommegang Three Philosophers
Delirium Red
Achel Trappist Blonde
Bruery Terreux Tonellerie Quad
Table # 79- 83
Dayton Area Rugby Club Silent Auction
All Proceeds to Benefit Dayton Oregon District Tragedy Fund
Hoppy– This category comprises nearly 40% of all craft beer consumed today & encompasses base styles such as IPA (India Pale Ale), Imperial or Double IPA (volume is turned up on hops &  alcohol) New England IPA, Brut IPA (fermented to very low residual sugar- dry), & Pale Ale as well as fruited variations of any of these core styles.
Barrel Aged– A traditional way of achieving additional complexity & age worthiness in beers that already possess concentrated malt & high alcohol. Varieties of barrels contribute additionally to flavor profile of these big beers.
Belgian– Acknowledged as the traditional home of complex beers largely due to yeast varieties, multiple fermentations, alcoholic strength, Belgians exemplify the fact that color is not an indicator of any of these attributes.
Malty– The use of varying degrees kilned malts that may be style dependent with lower hop levels creates a round mouthfeel of many flavors associated with malt, including toast, bread, caramel, chocolate, & coffee.
Sour– Typified by a tart character created by yeast ranging from slightly tart to quite sour. All beers historically were created in this manner via the introduction of airborne or wild yeast.
Cask– Traditional manner of serving draught in the UK. Cask is served at cellar temp of 55° without the aid of external CO2, rather via gravity feed. Generally lower carbonation than traditional draught.
Quaffable– Considered to be readily approachable & thirst quenching, sometimes lower in ABV (alcohol by volume), yet elegantly flavorful.
Fruit, Vegetable, & Herb– The addition of these ingredients may be found in historic beers & recently in Belgium among other countries. These adjuncts can contribute integrated flavors not typically found in traditional base styles, especially in the US.
Dayton Area Breweries-
Grouped by Brewery Rather Than by Style